Special Waste
Prescription Medications
Unwanted or expired prescription medications may be dropped off for FREE at the following locations:
Lincoln County Sheriff's Office 102 N. 2nd Street Stanford, KY 40484   Garrard County Sheriff's Office 15 Public Square Lancaster, KY 40444   Lancaster Police Department 308 W. Maple Avenue Lancaster, KY 40444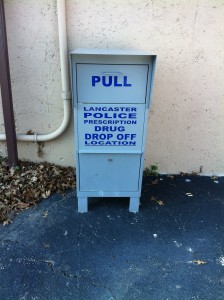 Electronic Waste
The following items are accepted for FREE at the Garrard County Recycling Center and the Lincoln County Recycling Center:
Computers
Laptops
Monitors
Keyboards
Printers
Copiers
Fax Machines
Telephones
Latex & Acrylic Paint
Latex and acrylic paint are water based and are therefore non-hazardous. Landfills will not accept paint in liquid form due to restrictions on free liquids. To dispose of latex or acrylic paint, simply open the paint cans and insert gravel, sand, cat litter, or other similar substance and allow to dry overnight. Once the paint has dried and hardened, the can and solid paint may be placed in your regular garbage.
Household Chemicals & Cleaners
For information on disposal of specific chemicals and cleaners, visit www.Earth911.com.
Propane Tanks
For tips on disposal of propane tanks, call Bright's Bottled Gas at 859-748-5382
Tires
The management area will accept up to 4 tires per household for free in either Garrard or Lincoln Counties each year. Please call ahead of time to arrange for a tire drop off 859-792-1868 (Garrard County residents) 606-365-9779 (Lincoln County residents).